Restaurant
Restaurant Klika Kitchen & Café is located in the heart of Ceske Budejovice, in the closest proximity to the city wall built in the 14th century. Restaurant Klika provides non-smoking dining environment for 40 guests. Other 20 guests can sit in the glass winter garden with a beautiful view of the river Malse in all conditions. Our guests will also appreciate the outside seating, where they can enjoy their meals and drink throughout the sunny summer days and evenings.

Variety of Dishes
Restaurant Klika's menu is modern and created to be in sync with a healthy lifestyle. The menu was designed to promote healthy lifestyle, using locally grown, fresh ingredients. Please check out our main menu and choose from a large variety of appetizers, main dishes, and desserts. If you get a chance try our best seller the "Beef Tartar". Restaurant Klika's main menu is also accompanied with the "seasonal menu" which offers seasonal dishes, using seasonal ingredients. Our chef prepares a special menu every day this menu has its roots in the traditional Czech cuisine.
Barbeque
During the summer season, if the weather is favourable, we offer grilled specialities – meals that are prepared right in front of your eyes by our grillmasters.
Delicious beverages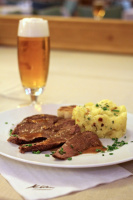 Our beverage menu includes favorite drinks from all over the world. Beer drinkers are welcome to choose from two of our best known Czech beers – local Budweiser Budvar or Pilsner Urquell. Our guests who prefer non-alcoholic beverages can try an Austrian herb soda/lemonade Almdudler. Our beverage menu also includes mixed drinks such as – Aperol Spritz, Bellini, Mojito or Wine spritzer with "violet".

Catering
Restaurant Klika provides all of the private dining and catering services, offering innovative, seasonal Czech cuisine. Our chef and culinary team will do everything possible to make your event truly memorable.
Our catering team will gladly work with you to create a menu customized for your event. Our restaurant also features a private dining space for up to 50 guests, where you can reserve the entire restaurant for your event; family celebration, graduation celebration, wedding, and/or company events. Restaurant Klika provides catering services for your private celebrations (delivered to your address).
For more information about catering options, or to book your next meeting or event at Restaurant Klika, please call +420 776 601 099 or +420 387 318 171.